We are proud to have won the 2020 Tekne Award in the Healthcare Informations Systems category. The winners were announced on November 18 via their live-streamed awards show. The full list of this years' winners is here.
The Tekne Awards are part of Minnesota Technology Association's mission to build a stronger tech ecosystem and innovation economy in Minnesota. They honor companies which positively impact Minnesota's diverse science and tech-based economy. In addition, they recognize new technologies that positively impact people's lives.
The Healthcare Informations Systems category: "Recognizes new approaches or advancements in digital systems that capture, process, transmit, report, or otherwise manage health data and activities. This includes electronic patient records and other data related to the activities of providers and health organizations. This is all with an eye towards improving patient outcomes, informing research, and influencing public policy and decision-making."
Rx Savings Assistant
Our new Rx Savings Assistant® solution truly fits the bill. In a nutshell, it integrates with EHRs to automatically embed Rx discounts in patient discharge papers. Drop-dead simple access at the time and place of care means more discount utilization. (Contact us to learn more.) If you are really curious, and want to do a deep dive, you can read our award application here.
We won in 2016 for our health risk assessments (HRAs), but this year we were truly up against some tough competition. (https://flywheel.io and https://www.provationmedical.com)
We want to shout out a big "thanks" to MNTech for this recognition and a "congrats" to our fellow finalists and winners in the other categories. We are honored to be in such great company.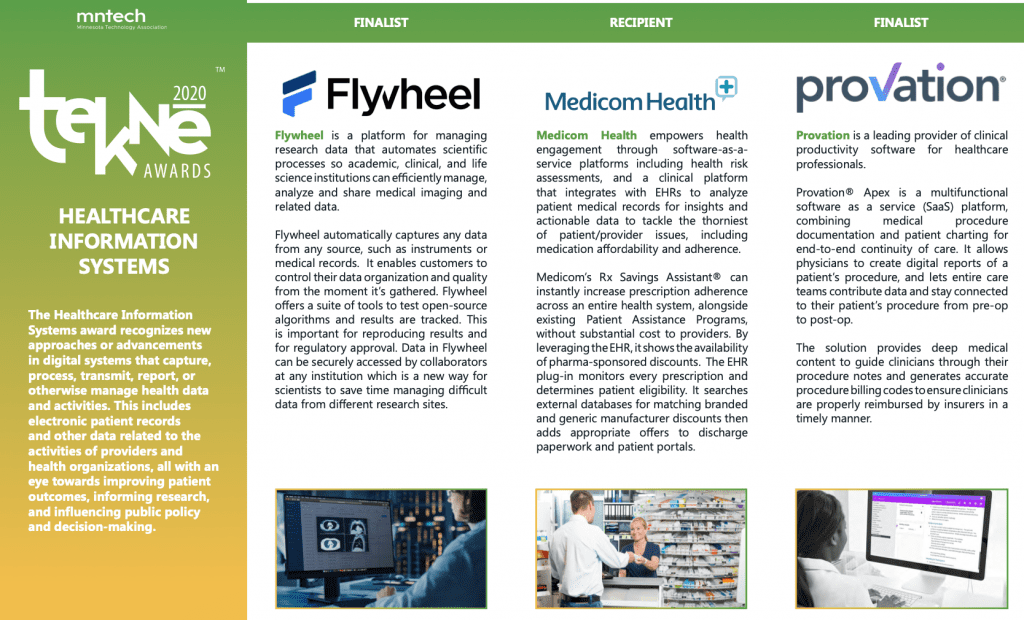 Other winners included Revel Health, Code42, Medtronic, Phenomix Sciences, and Thomson Reuters.