Medicom Health is now offering additional services to meet your evolving needs surrounding patient acquisition and engagement strategies, providing customers the ability to drive traffic, increase completions, and prove the value of their Health Risk Assessments and Self-Care Planners.
The offerings are a mix of digital and traditional marketing services that promote your service lines and drive consumers to your HRAs & Self-Care Planners. The services' design allows us to do most of the work, allowing you to focus on other projects and opportunities.
To help customers be successful and meet their patient acquisition and engagement, risk mitigation, and revenue goals, Medicom Health offers these new services:
Medicom SocialConnect
Facebook advertising is a proven method to connect with and acquire new patients. By targeting a Facebook audience that mirrors your patients and using your health assessments as a powerful call to action, you'll drive the right consumers to your profilers and increase completions. SocialConnect's landing pages can live on Facebook, and we will create, manage, and measure your campaigns.  You will see results in as little as five business days. Here's how it works: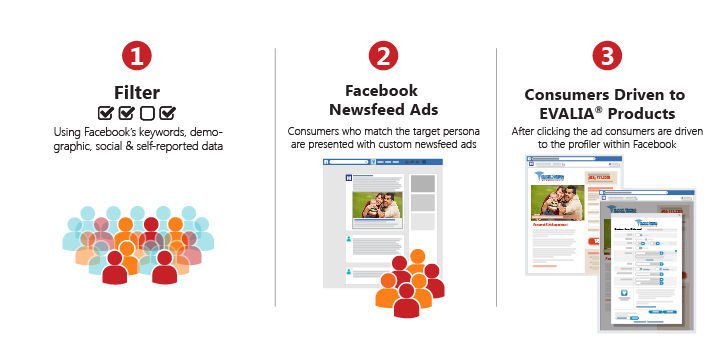 Medicom SearchConnect
Search engine marketing (SEM) is more than a buzz word, it's how many consumers learn about your services and should be an important part of your patient acquisition strategy. SearchConnect allows you to drive customers to your Health Risk Assessments through pay-per-click and Google ads. You will reach consumers who are actively searching for your services or visiting health and wellness websites, as well as local news and newspaper sites through banner ads. Here's how it works: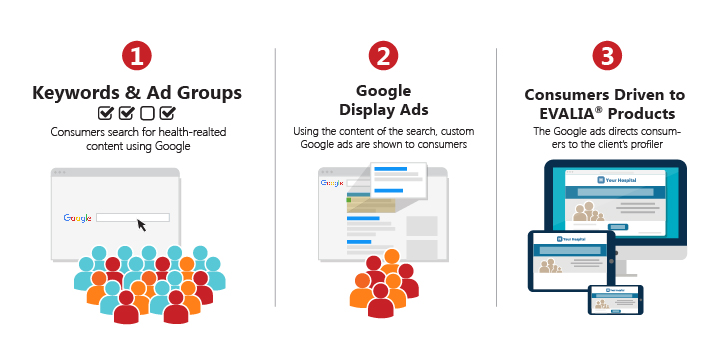 Medicom GeoConnect
Having a blended marketing strategy that includes both digital and traditional media is essential to your successful patient acquisition and engagement strategy. GeoConnect uses third-party data, predictive analytics, and consumer-reported health data to identify the best patients for your profiler campaigns. You can choose from postcard templates or use your custom designs. Here's how it works:
Click here for more information or contact Everett Schopper at (612) 930-4153 or [email protected].