GUEST WEBINAR SERIES
How Intent Marketing Will Drive Patient Volume in 2021
Health Systems Can Leverage Consumers Shift to Digital Interactions for Service Line Growth
Wednesday, May 19, 2021 @ 2:00PM CT
Health systems need to drive patient volume for struggling service lines, which anecdotally appear to be 85% of pre-pandemic levels.
People are still hesitant to seek care, yet have higher digital expectations than ever before. They increasingly choose digital as their first means of interacting with your facilities.
Join us to hear Carrie's tips for understanding and acting on what your consumers are digitally "signaling" – what they are looking for, what they are and are not comfortable doing.
In this 1-hour webinar:
Deciphering what patients want online, their digital "intent"
Leveraging consumer intent to amplify your marketing
Simple tips to grow service lines using your digital tools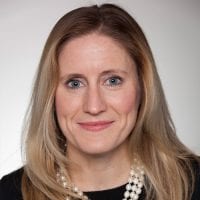 Guest Presenter
Carrie Liken, Head of Industry for Healthcare at Yext
Carrie Liken joined Yext as the company's first Head of Industry for Healthcare. In her role, Liken leads all healthcare-related activities, including product and partnership development. Over the last fifteen years, Liken has gained experience in the government, legal, nonprofit, and for-profit sectors, focusing on healthcare and health policy. For 8.5 years, she worked for Google, where she worked with healthcare organizations of all sizes to better understand the patient journey, digital's impact on patient and customer acquisition, and how to drive increased revenue and sales through digital means. Liken holds a degree in public policy and political science from Duke University and a Master of Public Policy from the Harvard Kennedy School of Government, where she focused on health policy.

About Yext
Yext is building the future of search. With a mission to provide perfect answers everywhere customers search, Yext's Search Experience Cloud puts businesses in control of their facts online. By providing brand verified answers on their own websites — then across search engines, maps, apps, voice assistants and chatbots — Yext helps brands take back control of the customer journey. With Yext, brands can regain — and maintain — a direct relationship with their customers. Every day, customers are asking questions about your brand. Are you answers-ready?

Medicom Health – Guest Webinar Series
Copyright © 2021 Medicom Health. All rights reserved.