Case Study Download
Download this 3-page case study to see how a year-long Facebook campaign we executed for Henry Ford significantly boosted HRA traffic, especially on mobile, resulting in cost-efficient growth in key service lines.
The challenge in front of us was figuring out a way to generate more total completions and thus more care visits without a significant cost outlay. After consulting with our Client Success Team, Henry Ford agreed that broader reach, better targeting and messaging alignment via Facebook could increase HRA starts and reduce HRA drop-off.
The results proved out what we generally see: When properly tuned and optimized, Facebook campaigns (like those we delivered,) are a critical tactic for HRA ROI – especially on mobile.
The Power of Social Promotions for HRAs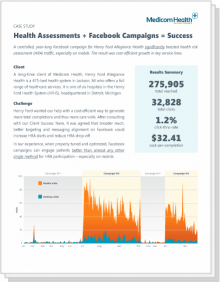 Download the case study.
A link will be sent to your email.