We are a health technology company dedicated to empowering health engagement by delivering world-class digital solutions & customer service.
– PASSIONATELY EXCELLENT • POSITIVELY RESILIENT –
Past
Founded in 2000 in Minneapolis (as "Medicom Digital,") we originally focused on custom software development. Our clients were a "Who's Who" of big pharma and national medical associations. Over 10 years, we completed more than 300 projects for high-profile health awareness tools including health risk assessments, symptom assessors, pharmacoeconomic models, and many more.
Some of these eventually drew interest from hospitals, clinics and health care systems. At their request we created our first hospital-centric health risk assessments in 2011. As interest exploded, we created a full platform to facilitate the rapid development and deployment of these white-labelled HRAs. Eventually we tapered away from custom development, fully embracing a modified SaaS model.
Present
Medicom Health is the market leader in online health risk assessments (HRAs). It's our passion! Over a thousand influential hospitals use our best-in-class tools to convert website & Facebook visits to revenue-rich office visits. At first glance, these evidence-based HRAs appear to be simple "health quizzes" but they hide a deeper power. They spark "aha moments" to engage patients. They collect actionable data to turbo-charge CRMs & personalize digital outreach. The back-end portal allows marketers to enhance their patient acquisition workflow via customization and integration options.
New for 2018, our third-generation platform has been built with mobile users, touch interaction, and ADA compliance's the focus.
In addition to numerous other awards, Medicom Health has won multiple 100 Best MN Companies to Work For honors and recently been recognized with the 2017 BOLD Award in the MN Corporate Small category and a 2016 Tekne Award.
Future
Recently acquired by Eruptr, we have big plans for leveraging our synergies, including technologies, partnerships, and market penetration, to better serve our clients and broaden our solutions. Click here for more information on special pricing and discounts for our combined solutions!
Leadership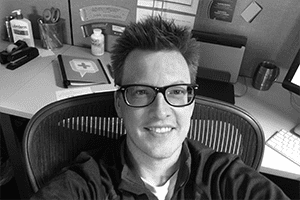 J. Anthony Huth
Chief Executive Officer, Co-founder
Tony Huth is CEO and one of the co-founders of Medicom Health. Tony has worn many hats in the organization. Today, he directs the leadership team while contributing to product and partnership development, and marketing initiatives. For 20+ years, he has developed consumer-facing software tools to help influential health organizations inspire individuals to address their health concerns. Tony holds a Bachelor of Arts degree from Augsburg College.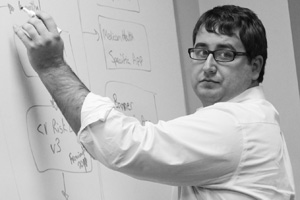 Corey Maul
Chief Technology Officer
Corey Maul is the CTO of Medicom Health, managing all technology aspects of company operations, including development staff, IT operations, and technology directions. Prior to Medicom Health, he was founder of a student technology training program for Washington University in St. Louis. The program allowed undergraduate students to complement their existing degree programs with over 90 different seminar-style technology courses. Corey holds a B.S. degree in Computer Engineering from Washington University, an M.B.A. from the Carlson School of Management, He is also an active member of the Twin Cities Google Technology User Group, among others.