Strategies for Raising Diabetes and Pre-Diabetes Awareness
National Diabetes Awareness Month (November 2023) is a crucial time to raise awareness about diabetes, a chronic health condition affecting more than half a billion people worldwide. The 2023 theme for World Diabetes Day, which falls on the 14th of this month, is "Access to Diabetes Care," focusing on the prevention of type 2 diabetes and diabetes-related complications. This theme emphasizes the importance of increasing access to diabetes education to help improve the lives of those living with the condition.
The Importance of Pre-Diabetes Testing and Care
Pre-diabetes testing is crucial because it enables people to take early action to stop or delay the formation of type 2 diabetes. In the United States, more than 96 million people have prediabetes, and the majority of them are not aware of the fact they are developing a significant chronic illness. According to research, people are more likely to adopt the essential long-term lifestyle changes, such as eating healthier, controlling their weight, and being active, after they are made aware of their disease. These adjustments can help prevent or delay the onset of type 2 diabetes. That is why National Diabetes Awareness Month is essential in motivating people to seek pre-diabetes screenings and take preventative measures to maintain their health.
What You Can Do: Encouraging Diabetic Care
Through a variety of tactics, including community outreach events and social media education and awareness campaigns, healthcare marketers can raise the general public's awareness of diabetes and pre-diabetes. Community activities like health fairs, workshops, and informational sessions can help to increase awareness of diabetes and pre-diabetes by giving people the chance to learn about risk factors, preventative measures, and services that are accessible.  In order to inform their audience about early detection, prevention, and management of these conditions, healthcare marketers can use social media platforms to share educational content, personal stories, and resources. This can help raise awareness of diabetes and pre-diabetes. To put it another way, anything that causes a customer to stop and think about how diabetes may affect them creates an outstanding call to action.
Our Diabetes Risk Assessment is one of the best ways to spread awareness. The quick evaluation takes less than 4 minutes to complete and provides a thorough report that educates about the risks of diabetes. The HRA also makes an assessment of the factors that lead to increased challenges.
Creative Ideas for Promotion
American Diabetes Month Toolkit by USHBC

: This toolkit provides tools, resources, and content to help promote awareness of the health benefits of blueberries in relation to diabetes management.

Health Communication and Marketing Toolkit by CDC

: This resource is designed for CDC-funded state, city, and organization type 2 diabetes prevention and management programs.

American Diabetes Month by ADA

: This campaign takes place in November and provides ways to manage diabetes and raise awareness about the condition.

Official hashtags: #DiabetesAwarenessMonth #DiabetesAwareness #type1diabetes #type2diabetes #NDAM #WorldDiabetesDay
How We Can Help
If you are looking for an effective call-to-action for your National Diabetic Awareness Month campaigns, including SEM and social campaigns, consider our Diabetes Risk Assessment as a possibility.
We're here to help you during National Diabetic Awareness Month and beyond. Please feel free to contact us with questions, concerns, or comments.
We hope these resources were helpful! Thanks for reading.
Bonus: Did You Know?
#1: In 200 A.D.
The term diabetes (meaning "to pass through") is used for the first time by the Greek physician Arateus of Capadocia to describe a condition of excessive urination.
#2: Insulin is 102 years old
The development of therapeutic insulin in 1921 was a landmark breakthrough in the history of medicine. 100 years on, millions of lives have been saved and improved but insulin and other diabetes medicines and care still remain beyond the reach of many who need them.
#3: The INSULIN Act of 2023
– also known as the Affordable Insulin Now Act, is a bipartisan legislation introduced to cap the price of insulin for individuals with private health insurance. As of September 1, 2023, the bill has gained momentum in the House of Representatives, with 73 members co-sponsoring it since its reintroduction in March. However, it has not yet been confirmed whether the legislation has passed.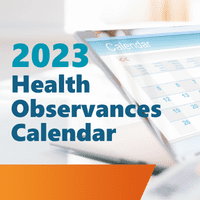 Interested in converting more traffic during
Diabetes Awareness Month?
Connect with a representative to learn more about our special offers.


* Limited to major service lines, and a maximum of $2k/month for up to 3 months.