Acquire patients. Grow service lines. Build brand.
More than 40,000 women are expected to die from breast cancer this year. Appropriate screening is key to early diagnosis and successful treatment.
This evidence-based assessment can provide recommendations for genetic screening or mammograms. The calculations take genetics, lifestyle and personal health histories into consideration, and are updated regularly.
Benefits for Patients
Help consumers understand if they should schedule genetic screening, mammograms or other image-based screening.
Empower users to easily leverage both FHS-7 and USPSTF recommendations with clear, evidence-based next steps.
Enable people to conveniently seek treatment at the right time for their situation AND your facilities' goals and resources.
Follow-Up Strategy Guide
This document explains follow up options based on personas for each risk levels.
Sample HRA
(for Patients)
Try out a demo version of the "health quiz" your patients would see on your website.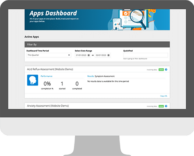 Management Portal
(for Marketers)
Our secret weapon. Where customization, integration, reporting, etc. happens. Must see!