Our Next-Generation Assessments (v3)
With over 700 HRAs deployed and over a million v2 completions, we had user data and feedback from the market to guide our completely new designs. This video shows features common to all of our v3 versions.
Mobile-first Design
Interactions optimized for touch

Thumb-friendly control surfaces
No drop-downs

Less text, but larger text
More whitespace
Flatter design
Faster load times
More Custom Content Areas
Less Clinical
Simplified results
Fewer clinical questions
Less clinical language
Friendlier tone
Streamlined disclaimer options
More Fun
Inline feedback/reward
Optional gamified progress indicators
Animated page transitions
We are seeing significant improvements in completion rates, especially in our Heart Health Assessment.
37%
v2 (previous)
Heart Health HRA average completion rate.
56%
v3 (new)
Heart Health HRA average completion rate.
1.5x
overall completion rate improvement.
Heart Health HRA Completion Results

Client
v2 Completion Rate
v3 Completion Rate
3 Hospital System in the Midwest
35%
42%
2 Hospital Health System in the South
16%
42%
1 Hospital Health System in the Midwest
33%
61%
3 Hospital Health System in the South
25%
52%
9 Hospital Health System in the South
37%
47%
12 Hospital Health System in the Southeast
44%
50%
4 Hospital System in the Northeast
33%
52%
1 Hospital Health System in the West
41%
69%
1 Hospital Health System in the West
67%
88%
On average, completion rates improved 1.5 times from v2 to the new v3 Heart Health HRA. This means more consumers have connected with our hospital clients and converted into patients!
The Power Behind the HRAs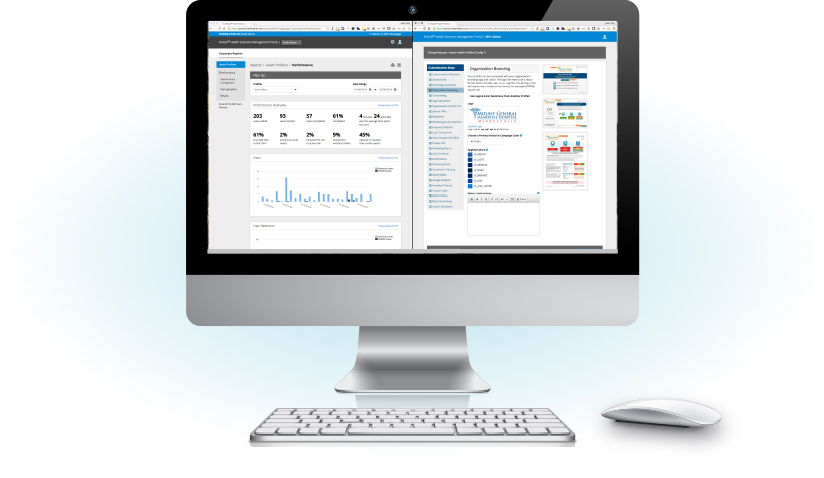 Unlike many similar HRAs in the marketplace, we have a robust back-end that we continually upgrade.
The deep power in the Management Portal ultimately
results in greater revenue and ROI.
Follow-Up
Follow-Up Emails
Automated Comorbidity Follow-Up Emails
Reporting
Aggregate Performance, Demographic & Results Reporting
Aggregate Comorbidity Reporting
Scheduled Aggregate Reports via Email
Custom Reports
Integration & Tracking
Alert Notifications
Portal Data Export
Google Analytics
Google Tag Manager/Tealium iQ
CRM & Marketing Automation Integration
Scheduled Data Export via SFTP
Appointment Scheduling Integration
Support
Onboarding Training
Email Support Response Time
Telephone Support (8×5)
Dedicated Account Manager
Terms & Conditions Customization
Dedicated Implementation/Rollout Team
Delivering the results of an HRA is just the start.
Users who complete HRAs are uniquely invested, educated, and motivated…
…And you have their health stats, contact info, and permission to use that data to engage them.
We can help you build digital patient relationships via follow-up interactions that are tailored to
each Result Segment.
Call-to-Action Links
Create custom links to
recommended next steps
for each Result Segment.
10 Automated Emails
Create drip-messaging for
each Result Segment that can
nurture patients over time.
Hospital Staff Notifications
For example, send email notifications for high-risk patients to nurses, call centers etc. for tailored outreach.
Integrations with 3rd-Party Tools
Export lists of patients into third-party tools like CRM, marketing automation,
call centers, and e-newsletters for continued nurturing or re-targeting.
To see these and other features of the management portal, request a demonstration.
We have also created extensive Follow-up Content Guides to help you route patients in each Result Segment to the proper course of action.
Contact us or ask your Customer Success Representative for more details.
Coming Soon: We are training popular health content companies to write effective post-HRA messaging by Result Segment to benefit our common clients.