New Feature
You can now add up to 8 custom questions to any v3 assessment. Previously, this feature was only available in our flagship Heart Assessment.
Custom questions can be a very powerful way to generate additional benefits from your Medicom Health Assessments. For example, perhaps your bariatric program only accepts certain insurance plans. Accordingly, a custom question could ask potential patients about their coverage. Furthermore, it is possible your clinicians want to know deeper details about patient history. You can now ask if a patient has previously seen a specialist in your system. The possibilities are wide open.
Details
These questions will not influence a user's risk level or screening recommendations. However, the answers will be available in the Raw Data report. Therefore, you can gather new insights to enhance future outreach to patients and prospects.
Sample Uses
If you're looking for a few ideas to inspire your custom questions, here are some current examples.
A mid-sized system in the Midwest uses a custom question to stay abreast of consumer payer-mix. They ask: "What type of insurance do you have?"
Some clients opt to forgo asking a question. Instead, they reiterate next steps to the consumer: "For those of you with a risk of heart disease, a nurse will follow-up with you to answer any questions you may have."
Some systems run employee wellness campaigns. They use custom questions to quickly segment completions: "Are you an employee of the health system?"
Some organizations seek to personalize lead nurturing campaigns. They provide a checklist of health topics to understand interest: "Which other health-related topics are you interested in learning more about?"
Question Types
You can add up to 2 questions per page. There are four different available question types: Numeric Entry Field, a Text Entry Field, a Radio Group (select one), or a Checklist (select multiple). Here is an example of each option: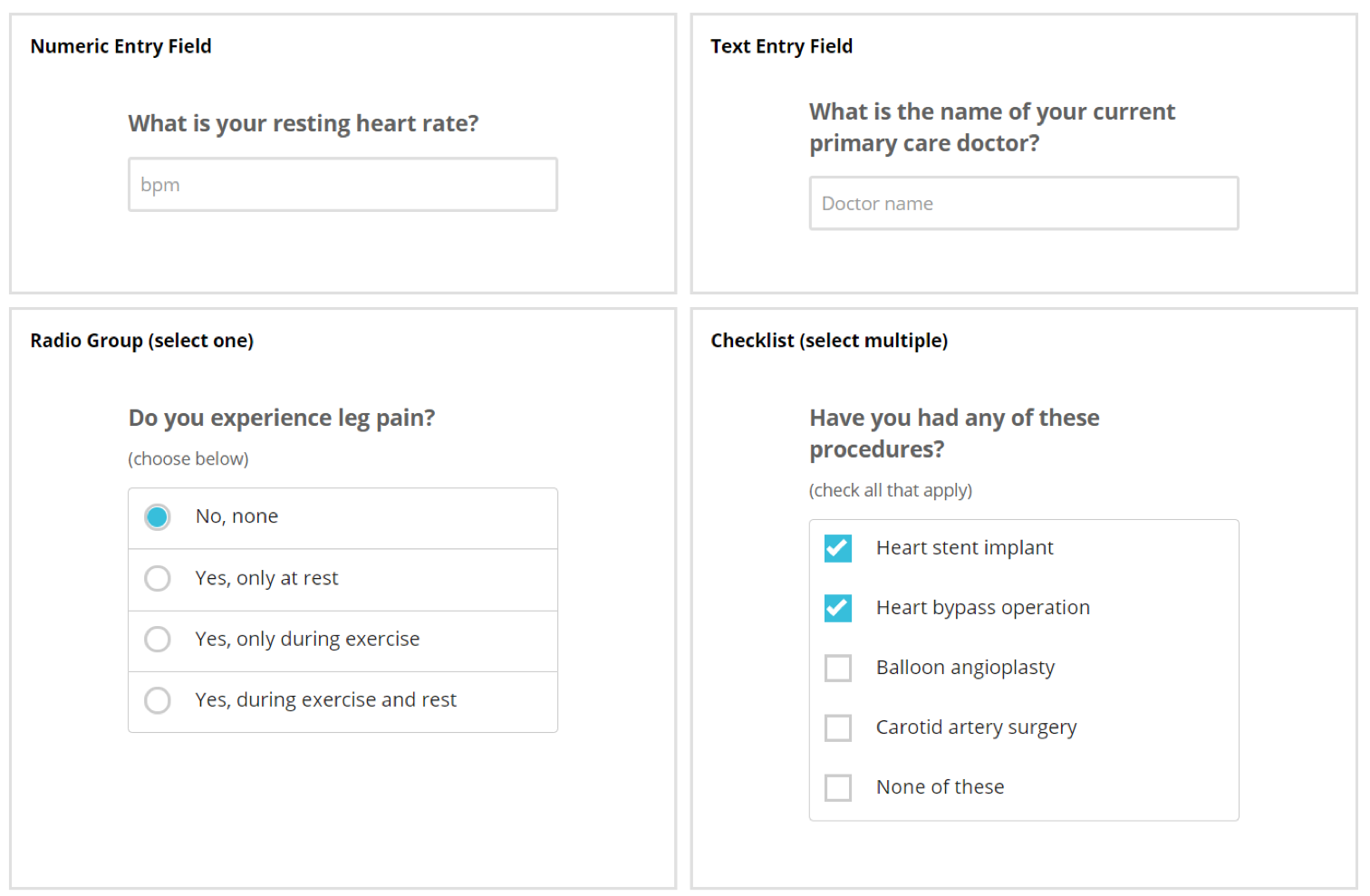 You can purchase these custom questions directly from the portal. Look in the "Customization" section. Simply select the number of questions you would like to purchase.