Research shows interest in, and prevalence of mental health issues are at an all-time high.
May is the perfect time to call attention to what potential patients can do about it. Keep reading for tips on resources and helping your community overcome barriers to diagnosis and treatment.
OPPORTUNITIES
Mental Health Awareness Month celebrates its 74th anniversary in May. Many health systems are working hard to remove the stigma around mental illness and improve access to care. Content marketing can be an effective and efficient way to make progress toward those goals.
In fact, Ceralytics' 2018 Healthcare Content Marketing Report found "mental health" is an underutilized topic. Perhaps surprisingly, the report further indicates that mental health awareness content drives the most engagement. Audiences are clearly hungry for it.
PREVALENCE
According to the CDC, Mental health crises account for 60 million visits to primary care and 6 million ER visits annually. In 2019, an estimated 47.6 million adults (19% of the country) had a mental illness, but only 43% received any kind of mental health care.
Anecdotally, fall-out from the pandemic has likely increased the number and severity of mental health issues for a variety of reasons.
Also, mental health illness rates were significantly higher for adolescents (about 50%) and young adults (about 30%).  By the way, these young adults are considered "digital natives." They were born during the age of digital technology. Therefore, they are familiar with computers and the Internet from an early age. This makes them an ideal audience to engage in social campaigns during Mental Health month.
RESOURCES
Here are some great resources to help reach out to your community during Mental Health Awareness month.
1. Mental Health America
MHA's 2023 Mental Health Month campaign will focus on the way our neighborhoods and built environments – our physical surroundings – impact both individual and population mental health. Topics include: home and living space, neighborhood and town, outdoors and nature. They have a free downloadable toolkit that will be available mid March to help inspire promotional ideas. It includes: sample press release, fact sheets, banners, outreach ideas, and much more.
2. Center for Workplace Mental Health
Elevating Mental Health and Well-being for a Resilient Workplace
Mental health is always important, but with the lingering effects of the pandemic and a shift in "returning to normal," it is at the top of the priority list. This toolkit provides tips and resources for supporting mental health and well-being at work.
3. Center for Disease Control
Preventing Suicide is a Priority. CDC's Suicide Prevention Resource for Action details the strategies with the best available evidence to reduce suicide. The Prevention Resource can help states and communities prioritize suicide prevention activities most likely to have an impact. The programs, practices, and policies in the Prevention Resource can be tailored to the needs of populations and communities.
OVERCOMING BARRIERS
The stigma around mental health is still there, yet more people are talking about it.
How can you help? By continuing to openly promote access to relevant care. More than 14 million people recognize that they need help, but cannot find the right behavioral healthcare provider or agency.
Do your part to promote a dialogue, reduce stigma, and help individuals take the first step toward healing.
HOW WE CAN HELP
Medicom Health has two behavioral health assessments, Depression and Anxiety that are a fast, easy and private way to connect users to the right point of care in your system for their needs.
We're here to help you during Mental Health Awareness Month and beyond. Please feel free to contact us with questions, concerns, or comments.
Ask us how adding (or optimizing) the Depression and Anxiety HRAs can support your system's commitment to your community.
Hope these resources were helpful! Thanks for reading!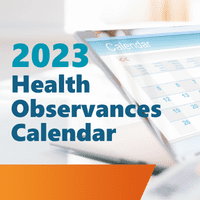 Interested in converting more traffic during
Mental Health Awareness Month?
Connect with a representative to learn more about our special offers.


* Limited to major service lines, and a maximum of $2k/month for up to 3 months.