December 1-7 is National Handwashing Awareness Week this year. In case you did not know, or you forgot, the CDC has a fairly complete set of campaign materials you can freely use for hand washing promotions any time. (https://www.cdc.gov/handwashing/campaign.html)
But even if you did know about them, you might have missed this cool Campaign Toolkit overview PDF because it is just a tiny link WAY at the bottom of the page.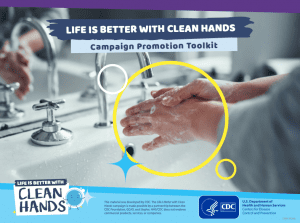 This is the description from the site:
"CDC launched Life is Better with Clean Hands, a new national campaign designed to motivate adults to make clean hands part of their daily lives. The campaign resources below are designed to help raise awareness about the importance of handwashing at key times in both homes and public settings, such as before cooking or after using the bathroom. Download and share them to help spread the word and encourage handwashing within your community."
FYI, there are multiple version of many of these assets in both English and Spanish:
Print materials, like posters and fact sheets
Social media graphics & posts
Web banners
Radio Public Service Announcements
Sample Newsletter Announcements
Handwashing Awareness Week Bonus
Did you know that newer Apple Watches can now track hand washing and prompt us to do it? How cool is that? Tons of cool info about that is here.
Here at Medicom Health, we really think that more than ever we all need to be wearing masks, socially distancing, and washing our hands.
To help you with the latter, we are giving away a new Apple Watch SE with this nifty feature and tons of others.
Your choice of finish and band. Just complete this form to enter the drawing.
The winner will be drawn December 1st. Happy hand washing!