Medicom Health co-founder, Tony Huth, is featured as a local industry thought leader in the forthcoming INNOVATE Minnesota publication. His 1-page article on innovation appears alongside other local thought leaders in the book. The publication highlights the unique contributions of innovative Minnesota-based companies and their leadership, and includes a separate showcase on the whole company in addition to this feature.
MnTech
The Minnesota Technology Association, a coalition of more than 250 member companies, sponsors the book locally. Importantly, they work to build a stronger tech ecosystem and innovation economy in Minnesota. Its member companies work the spectrum of technology. They range from long-established corporations to small and growing startups.
We are proud previous winners of MnTech's Tekne Award in 2016 for our industry-leading HRA platform for health system marketing. Accordingly, we have high hopes our new, disruptive Rx Savings Assistant® will win the Healthcare Information Systems category this year.
This is Medicom Health's first significant clinical SaaS platform. "Importantly, it fulfills a long-held dream of integrating with EHRs to mine patient medical records for actionable insights based on clinical data. We want to tackle the thorniest of patient and provider issues and this new platform is a great start," says Tony Huth.
INNOVATE Minnesota
Inclusion in INNOVATE Minnesota Thought Leader chapter is by invitation only. The 250-page book gives a voice to leaders of all industries and sizes to sound off on their unique contributions to the state and its people. INNOVATE Minnesota is currently being printed. In the meantime, click the thumbnail for a PDF of the page: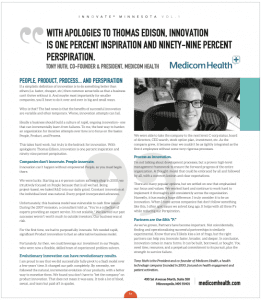 About Us
Founded in 2000 in Minneapolis, Medicom Health is a technology company dedicated to empowering health engagement by delivering world-class digital solutions & service.