GUEST WEBINAR SERIES
2020 Healthcare Digital Marketing Trends Survey Results
Key Takeaways & Insights for Hospital Marketers
Wednesday, December 16, 2020 @ 2:00PM CT
Chart a path to digital marketing success! The thoughtfully complied results are available from the 10th edition of this respected survey of almost 200 providers and vendors.
Join us to hear Ben share impactful insights to inform your 2021 marketing strategy and benchmark your organization on the leader/laggard scales. And while the pandemic wasn't the focus of the survey, its effects can be felt throughout.
Sample topics: budgets, staffing, challenges, goals, reporting, content marketing, mobile apps, chatbots, websites, intranets, personalization, and more…
In this 1-hour webinar we will explore:
How you compare to your marketing peers
Real-world digital marketing trends and strategies
Obstacles (including COVID), opinions, and plans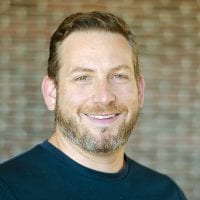 Guest Presenter
Ben Dillon – Chief Strategy Officer at Geonetric
Ben is a big picture type of guy. He loves sharing new ideas in digital marketing, keeping a watchful eye on healthcare industry trends, and seeing how it all intersects. A sought-after speaker, writer, blogger, and former SHSMD board president, Ben's an influential voice in healthcare marketing, helping organizations across the country embrace online strategies to engage health consumers. Ben holds a master's degree in eBusiness and strategic management from the University of Iowa and a bachelor's degree in computer engineering from the University of Michigan.

About Geonetric
Geonetric helps healthcare brands thrive through effective marketing and distinctive websites. As a marketing agency and software developer with deep technical and creative expertise, Geonetric provides hospitals, health systems, and medical groups with a healthcare-specific content management system, hosting, marketing strategies and creative services optimized for the unique needs of the healthcare industry. Over the past 20 years, Geonetric has transformed into a leading healthcare web development and creative services agency. They continually utilize the newest technologies and stay on the cutting edge of web development.

Medicom Health – Guest Webinar Series
Copyright © 2020 Medicom Health. All rights reserved.