Ever wonder which of your CTAs/emails are most effective?
We always encourage health systems to create an effective Follow-Up Plan, which include calls to action (CTAs) and a follow-up email campaign… but what are users really seeing after each HRA completion? What follow-up emails are they opening and most importantly, what content are they seeing?
Aside from your HRA result reports, our client management portal can track your Follow-Up Plan reports. This information is stored in the Reports Tab, under "Follow Up." There are two different types of reports: CTAs and Email. These reports can also be downloaded for your reference.
Calls to Action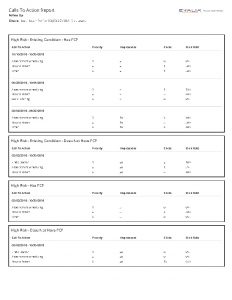 In this report, you can easily view:
the CTA's for each risk category
the priority in which you have them set
how many impressions vs. click throughs
the overall click rate.
We recommend that you look at this data periodically to determine if changes need to be made. We are happy to schedule a call to review your results and make recommendations to improve areas of your follow-up plan. Please contact a member of the Client Success team to set up some time. We are here to help!
Also, you can see other support articles about follow-up plans here: Follow-up plans
Tami Weigold
Client Success Strategist
at
Medicom Health
Tami has been in the healthcare marketing space for nearly two decades – working in both large hospital systems and independent medical groups. The majority of her career was spent in San Diego, leading marketing and communications efforts for both Sharp Healthcare and Palomar Health. With a hefty focus on CRM, ROI analysis and the patient experience, Tami was an early adopter of digital technology.
After a recent move to Connecticut, with her husband Justin and children Molly and Max, Tami is excited to join the Client Success team at Medicom Health and looks to be a valued strategic resource to her clients.
Latest posts by Tami Weigold (see all)